Facial Sheet Mask
Dermal Red Sea Cucumber Collagen Essence Face Mask
Earn 43 - 1750 points upon purchasing this product.
Dermal Red Sea Cucumber Collagen Essence Mask contains red ocean cucumber 2500 ppm improved in peptides and it serves to advances for amalgamation of collagen and elastin.  Sea cucumbers can change the adaptability of a stringy protein called collagen which can keep skin youthful and sound. Collagen are found in connective tissues and fortify the bones and teeth. It helps in getting smooth skin and a young appearance.  It additionally used to treat wounds and scars.
DERMAL COLLAGEN ESSENCE MASK – RED SEA CUCUMBER
Product Information:
Content: 1 pack
Weight (per sheet): 23g / 0.8 oz
Expiration: 3 years after manufacture date
Manufacturer Code: DM-39
Ingredients: Water, Glycerin, Butylene Glycol, Sea Cucumber Extract, Aloe Barbadensis Leaf Juice, Xanthan Gum, HydrolyzedCollagen, Portulaca Oleracea Extract, Panthenol, Beta-Glucan, Polysorbate 80, Tocopheryl Acetate, DisodiumEDTA, Methylparaben, Fragrance.
Features & Benefits:
Detoxifies skin & gives a flawless appearance

Have a bright, soft, and rejuvenated skin in 15 minutes.

Reduce Fine lines, wrinkles & age spots.

Hydrolyzed Collagen & Vitamins provides your tired skin nutrition and keep your skin healthy and bright the whole day.

Dermal masks moisturize skin and maintain skin elasticity.

It leaves skin feeling soft, refreshed and perfectly hydrated.

It helps to revitalize and soothe the skin with a mild astringent effect of aloe extracts.

Easy to use a sheet mask.

Free from Mineral Oils, Sulphates, PEG & PG, Hypoallergenic.

Dermatologically Tested.

Recommended for all skin types.

It Can Use 3 times a week for good results.

Made in Korea
How to use:
STEP 1– After cleansing, dry face and soothe your face with toning water
STEP 2-Take out the mask sheet from the pack and unfold it.
STEP 3-First, gently apply the mask sheet around your eye part and then fit your face contours
STEP 4-Leave on for 15~20 minutes.
STEP 5-Peel off the mask sheet and tap the remaining collagen essence over your face until it completely absorbs to your skin.
You can USE AS COLD by keeping in the refrigerator or USE AS WARM by soaking about 2~3 minutes in warm water.
 

Additional Product Feature:

 
You can feel the difference after every application.

After application, avoid face wash, let essence should remain on skin for a long time for better results.

Dermal masks also contain Hydrolyzed Collagen, Vitamin E, C which keeps your tired skin relaxed, healthy, moistened and elastic.
Caution:
Stop using if skin becomes red, swollen itchy and etc during and after use

Avoid using on the irritated or sunburned skin by direct sunlight

Stop using on troubled skin part including eczema or dermatitis

Avoid contact with the eyes, if contact occurs rinses eyes thoroughly with water

For preventing dryness, use soon after opening

Keep away from the reach of baby and children

Stored at room temperature only. Keep away from direct sunlight.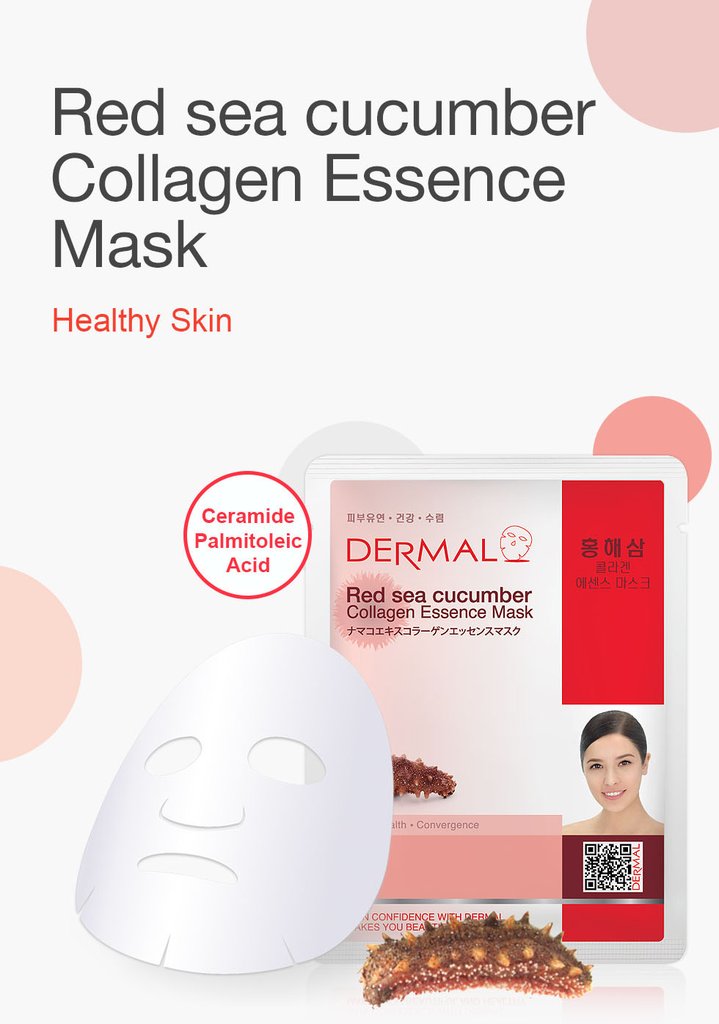 | | |
| --- | --- |
| Combo Pack | Single, Pack of 2, Pack of 5, Pack of 10, Pack of 15, Pack of 25 |